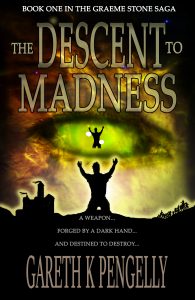 BOOK ONE of the Graeme Stone Saga sees the eponymous hero, the twenty-five year old from Britain, hurled from his humdrum life by forces unknown, to land on a far-flung world of ancient magic and barbarian slave traders.
With no memory of his former life, Stone tries his best to adapt to life in this strange new land. His body is changing; growing faster, tougher, stronger by the day. New and mystical abilities seem to be manifesting.
Why? What purpose does destiny have for him?
And, now he's been given a clean slate to work from, will Graeme Stone use these newfound powers for good? Or for ill…?
Find out in The Descent to Madness, Book One of the Graeme Stone Saga!
Descent to Madness is PERMAFREE so download it for free HERE.