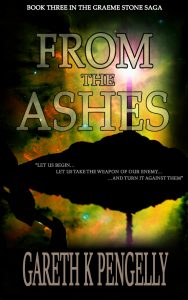 BOOK THREE of the Graeme Stone Saga.
Betrayed by the very council he held dear, Stone is cast into the far north where he finds himself recruited into the ragtag army of rebels he was only days before trying to hunt down and destroy.
The dark plans of Those Beyond the Veil are nearing fruition. Soon, the portal will open and the demonic hordes will be unleashed upon Stone's very homeworld; the Earth itself.
Can Stone overcome the distrust of those he once hounded? Can he call once more upon the Avatars of the Elements for aid, despite centuries of corruption?
And how can this small band of brave heroes hope to defeat the combined might of the Council?
Follow the adventures of Stone, Gwenna, Alann the Woodsman and more in this, From the Ashes, the concluding book of the Fall to Power trilogy and the THIRD book in the Graeme Stone Saga.
Buy it HERE.