A creature stalks the storm-lashed coasts of Cornwall. Dreadful to behold, with eyes that promise hell itself and reduce any who meet its gaze to gibbering wrecks. A figure from Cornish legend, a sinner, cursed to walk the line between death and life in penance for his misdeeds.
Tregeagle.
Be it bad luck, be it fate, the creature is unwittingly freed from his task and set another – to kill and kill again!
And only a brave band of would-be heroes can hope to stop him.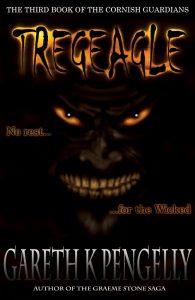 The Cornish Guardians – Alice, Gem, Lou -with all their magical gifts; Kyle Trecowan, with his dark, mysterious powers; Task Force Kernow Shield – Andrews, Helen, Debbie and Atlas, with all their skills and bravery; all must work together as they have done before if they're to put a stop to Tregeagle's rampage.
But the Knacker and the Redcap were but small-fry compared to this latest horror to stalk the land… Unstoppable… Unkillable… And to merely look into his eyes is death itself.
New allies, old friends and a mysterious benefactor. All of this in Tregeagle, the third installment of The Cornish Guardians.