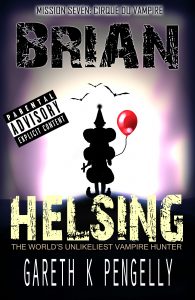 Well, Brian's not killed enough vampires in the series so far, not by my reckoning. This book changes that. Big time.
The Circus is coming to town, and it's not ordinary circus. And the Ringmaster, Ravioli, is in possession of one of the fabled Artefacts needed to put Cthulu back to sleep.
So Brian has no choice but to slap on the greasepaint and go undercover, in this, Mission 7: Cirque du Vampire.