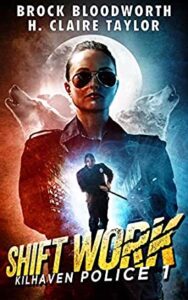 What a book.
Not usually one for police procedural novels (despite my other half constantly watching CSI,  Criminal Minds etc etc) but this one has a fun twist.
Kilhaven is a city filled with werewolves, shifters and sundry other miscreants of the night. An uneasy truce exists twixt humans and paranormal creatures, enforced by the Kilhaven PD; a police department consisting of mainly werewolves and the like, with very a few unlucky and outnumbered humans. Including our rookie protagonist, Green.  Green, get it? Cos he's a rookie! He's gre… Yeah.
We join him right at the beginning of his career as he's just left the academy, riding along with him as he experiences his first terrifying and downright disgusting forays into supernatural policework. Homeless werewolves, methed-up crocodile shifters, but absolutely, definitely not vampires. More than your job's worth, mentioning vampires.
Green is a fun character, down to earth, with just the right amount of knocking-kneed bravery to make him relatable, but my attention was stolen (as was no doubt the authors' intent) by Valance, the frankly terrifying officer in charge of Green's fate, namely, whether he passes or fails his probation.
Cold, intimidating, mysterious (is she a lesbian???), and not one for the rules, Valance steals every scene she's in. Which, in a book filled with sexy succubus mind-readers and people who can shift into eagles and bears, is no mean feat.
A fast-paced plot, characters you grow to care about, super-smooth, witty dialogue, Shift Work is a great intro to the series. Heartily recommended.