All Brian wanted to do was play his new video game expansion and enjoy some alone-time with his visiting magical, ninja girlfriend.
Alas, a Helsing's work is never done.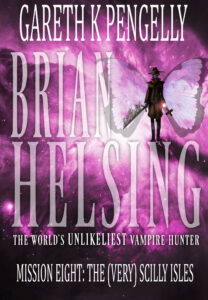 The residents of the Scilly Isles, those far-flung Atlantic islands to the south of Cornwalls rocky shores, are finding themselves blighted by a terrible run of bad luck, and Heimlich, the Helsing Order's Master of Magic, suspects fairies might be at work.
But when Brian sets sail across the high (and stomach-churning) seas, accompanied by girlfriend Aimi, best mate Neil, Master of Combat Gertie and her girlfriend (and Brian's ex!) Water Nymph Scylla, he soon discovers that all is not as it first appears.
Shrunk down to half an inch tall, Brian finds himself thrown screaming into a world larger, stranger and more fraught with danger than anything he's ever faced before!
Goblins.
Chewing gum.
Wasps.
AIDS needles!
And though the fairies are distractingly good-looking, and annoyingly obsessed with the equally good-looking Neil, it soon turns out that they're not the perpetrators of the Islanders bad luck at all. But rather the targets of a supernatural frame job. And it's Brian's job to stop it from turning into all-out war!
Join Brian on his biggest – and SMALLEST – adventure yet, in Mission #8: The (Very) Scilly Isles.