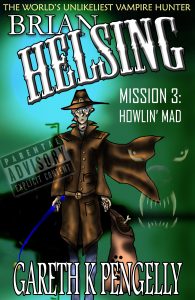 The third in the dark, funny and, for some, far too close to reality, Brian Helsing series.
Brian is beginning to get used to his new life; money in the bank, a muscle car on the drive, a stunning water nymph girlfriend somehow on his lanky arm. But it's not long before things get hilarious back off track.
Scylla, his girlfriend, and Gertie, his Master of Combat, have been making eyes at each other. So far, so titillating. But if the woman in charge of training Brian how to KILL supernatural creatures discovers the nymph's true identity, all hell could break loose.
To add further fuel to the fire, a chronic case of the werewolves has been reported in Cornwall. And eight-foot man-eating killing machines don't go unnoticed.
Join Brian as he navigates love, friendship and duty in his own inimitably awkward way. Oh yes, and werewolves. Don't forget the werewolves.
Find it on Amazon HERE.