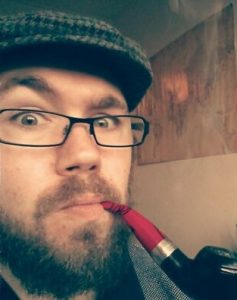 A self-confessed nerd of the highest order, Gareth, when not playing video games, painting Warhammer, or working on his latest novel, can often be found blitzing about the British countryside on a clapped-out motorbike (when not wrapping said bike around lamp-posts). It is said that he runs and lifts weights, because if he can't be tall then he can at least be in good shape. And rumour has it he once came eighth in the British Pipe Smoking Championships…
He lives in rural Leicestershire with his girlfriend, a mentally-disabled greyhound, and a cocker spaniel puppy.
He can frequently be found drinking a real ale or chuffing on his vape like the raging hipster he is.